Woodward High School - Cincinnati Ohio


Class of 1974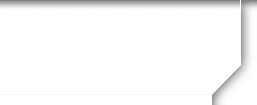 ANNOUNCEMENTS
Woodward Alumnal Association
c/o Woodward Career Technical High School
7005 Reading Road, Cinti OH 45237
WOODWARD ALUMNI OFFICE: (513) 363-9415
Website: WoodwardAlumnal.org
Email: woodwardalumnal@gmail.com
Class of 1974: CincinnatiWoodward1974@outlook.com
---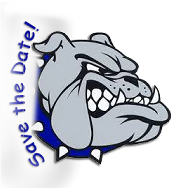 Here's a quick reminder that this event is just around the corner.
Can't wait to see you there! (Open to ALL)
Event details:
The Woodward Bulldogs Alumnal Association Kicks Off Its Annual Membership Fundraiser.

Join via zoom using the link https://us02web.zoom.us/j/84450201330?pwd=V1F2WUhPdFJsdFdtNllBbVhJMzIwZz09

Join via Facebook live using the link https://www.facebook.com/groups/433069056855942

Join via Boxcast using the link https://boxcast.tv/view/live-stream-january-9-2021-791996

Join via Twitch using the link https://twitch.tv/woodwardalumnal


Alumnal Association Luncheon
March 6, 2021, 11:00 AM – 2:00 PM EST
Zoom

============================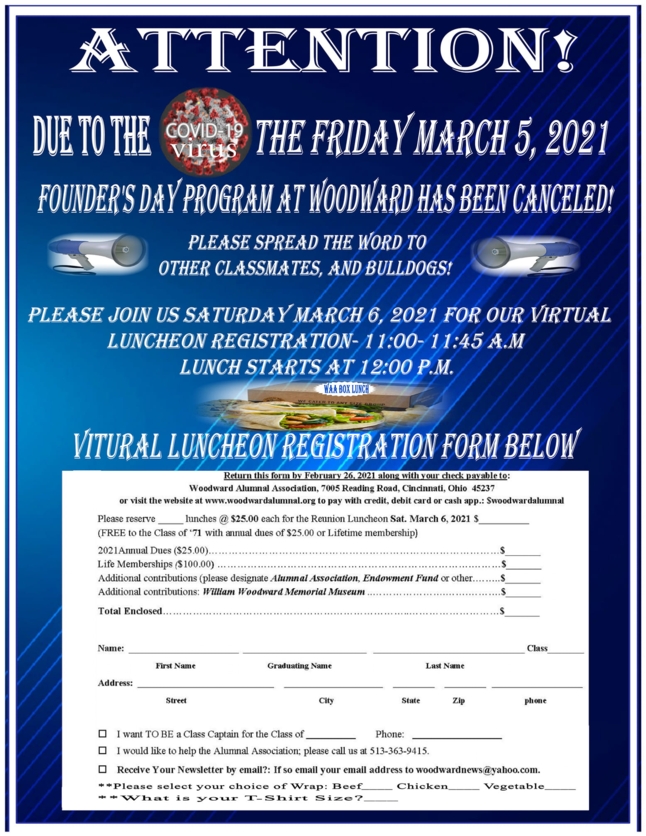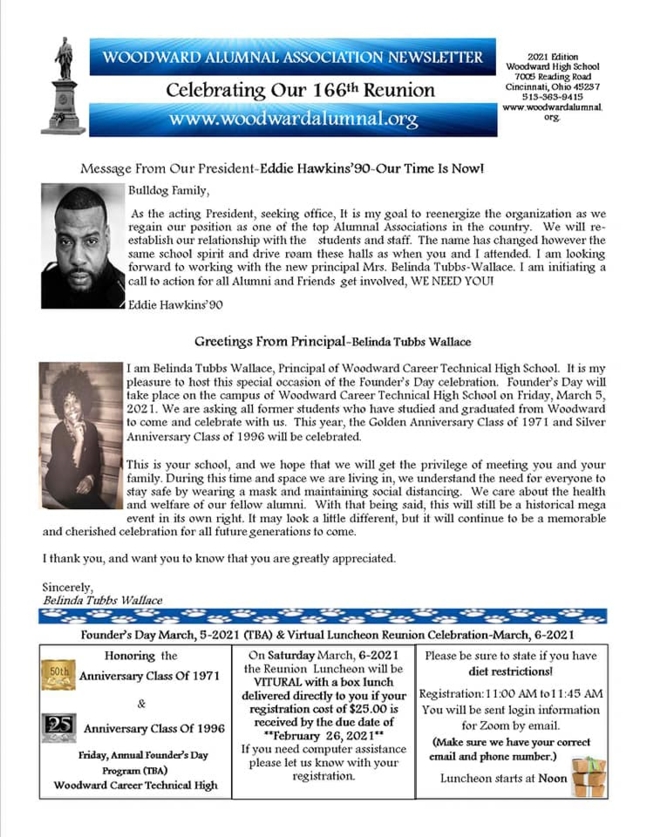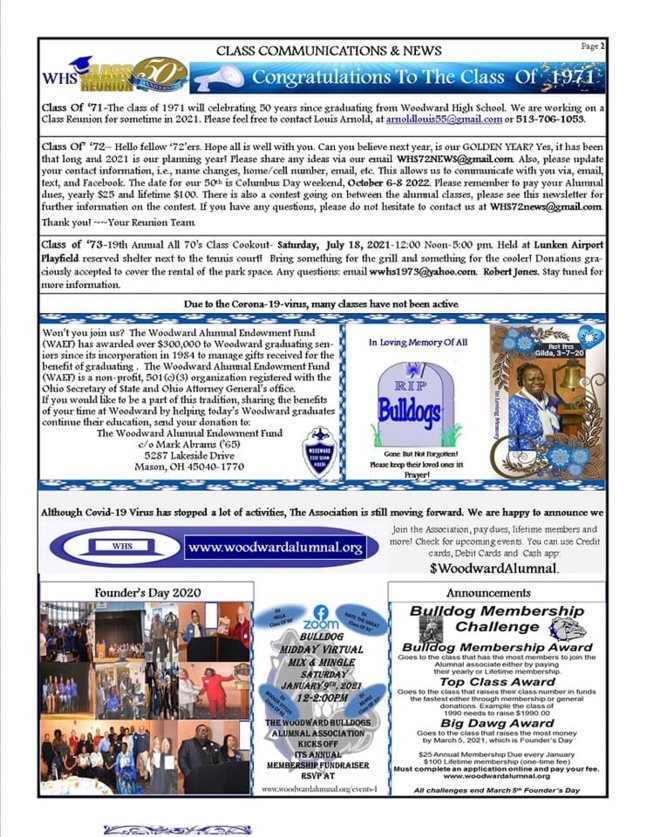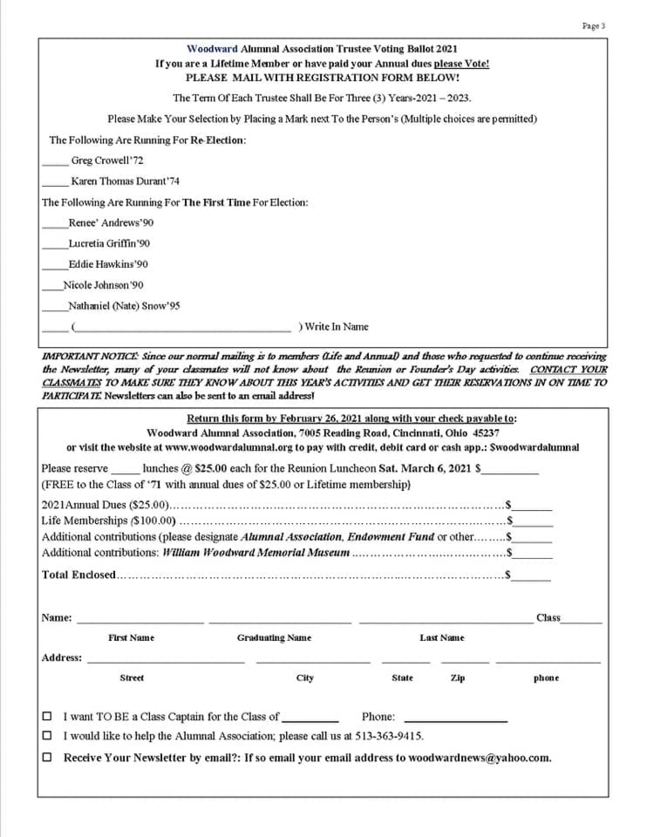 ===================
Hello Classmates:
The Bulldog Challenge has started!
Our Top Class Award amount is $1,974.00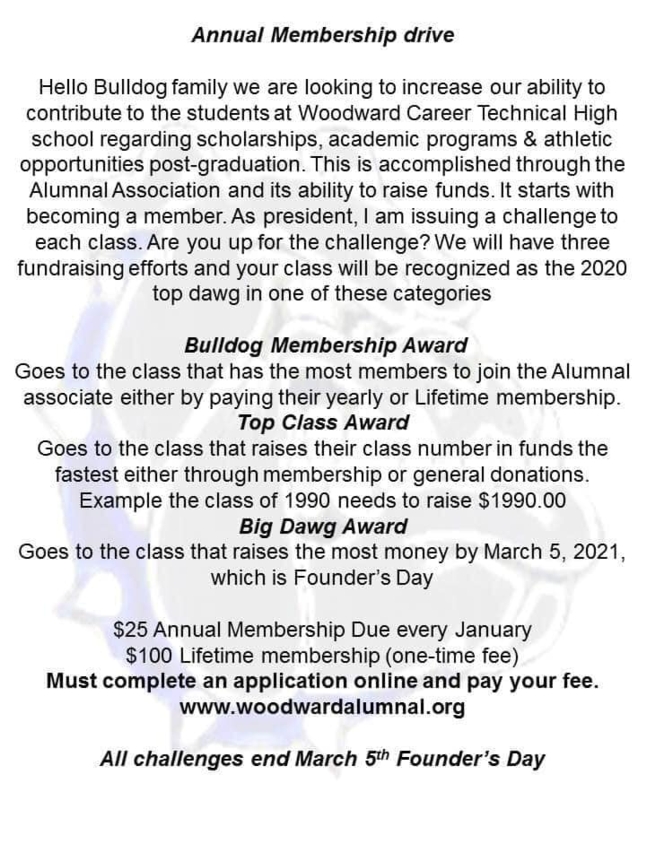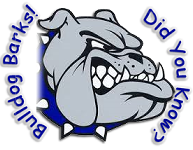 The Class of 1974 will celebrate 47 years in June 2021


I pledge my heart,my head,my hand,
And bid thee God Speed, Woodward!